Rotman Lens Designer for Analyzing Rotman Lenses
Product Announcement from Remcom (USA)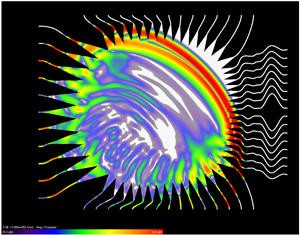 Rotman Lens Designer (RLD) software package is a tool for the design, synthesis, and analysis of Rotman Lenses and their variants. It is based on Geometrical Optics combined with the classical Rotman Lens design equations. It is intended for rapid development and analysis of Rotman Lenses given several physical and electrical input parameters. RLD generates the proper lens contours, transmission line geometry, absorptive port (dummy port) geometry, provides an approximate analysis of performance, and generates geometry files for import into Remcom's XFdtd® for further analysis and fabrication.
RLD System Requirements
Windows 2000 or XP
Red Hat Enterprise Linux 4 or higher
1024x768 minimum resolution
64MB or higher OpenGL compliant video card.
RLD Features
RLD™ creates lens designs based on typical input parameters. An extensive range of output values may be displayed for a given design. Some of the main input and output parameters are listed below.
Inputs:
Type of Lens - microstrip or stripline
Impedance of lines
Element spacing on the antenna
Number of Elements (up to 64)
Number of beams (up to 64).
Maximum scan angle.
Off-Axis Focii Angle as a fraction of Max Scan Angle
Bandwidth and Center Frequency
Electrical characteristics of lens material - dielectric constant, loss tangent, conductivity and thickness of dielectric material.
Electrical characteristics of absorber material
Physical characteristics of lens - Focal Length/Diameter Ratio
Aperture distribution
Port flare angles
Outputs:
Calculation of the lens contour and of the transmission line geometry
Element locations along the lens contour
Insertion loss (per beam port)
Amplitude and phase distributions of the array ports versus frequency.
Beam to Array Phase Error
Beam to Array Coupling Magnitude and Phase
Beam to Array Sidewall Coupling Magnitude
Beam to Array Spillover Coupling Magnitude
Array to Beam Coupling Magnitude and Phase
Array to Beam Sidewall Coupling Magnitude
Array to Beam Spillover Coupling Magnitude
S-parameters for all ports
Suggested Focal Length
Number of dummy elements
Location of loads on dummy elements
Location of absorber if necessary
Dimensions, volume
Gerber format files may be exported with third-party software
XFdtd® format files may be exported for full wave analysis
SAT format files may be exported from XFdtd
About Remcom:
Remcom has been a pioneer in the field of electromagnetic simulation since 1994 when we released the first commercial FDTD solution. Today we provide a wide array of solutions for a growing number of industries and applications. Our products are used by organizations of all sizes, from multi-national corporations, down to small consulting firms.
Request additional information, a demo, or pricing from Remcom: http://www.remcom.com/information-request-form/
---