WaveFarer Automotive Radar Simulation Software
Featured Product from Remcom (USA)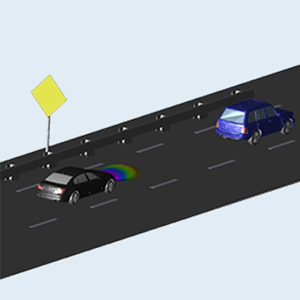 WaveFarer® is a high-fidelity radar simulator for drive scenario modeling at frequencies up to and beyond 79 GHz. Near-field propagation and scattering methods compute raw radar returns from target objects while considering multi-path interactions from ground reflections and other structures.
Applications
Antenna design, sensor placement, and target identification algorithms can be evaluated against NCAP test scenarios using WaveFarer. OEM and Tier 1 suppliers use the simulated raw radar returns to understand a radar's ability to perform elevation measurements, identify targets, and separate objects.
WaveFarer Features
WaveFarer's features enable fast and accurate analysis of repeatable drive test scenarios.