4-Ch. Video Decoder with MIPI-CSI2 Interface
Featured Product from Renesas Electronics Corporation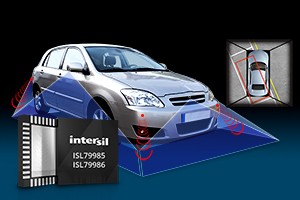 Renesas' ISL79985 4-channel analog video decoder with MIPI-CSI2 output interface supports the latest generation of SOCs and application processors used in automotive around view systems. The highly integrated decoder replaces up to nine discrete components with a single chip to preserve critical board space. It delivers superior four-channel analog decoding performance for generating 360° around view video to detect objects around the vehicle and assist drivers with backup and parking.
The ISL7998x family also includes the ISL79986 with a line-interleaved BT.656 interface. These video decoders provide motorists with detailed, high-quality video, enhancing their ability to see objects around the entire vehicle. An around view monitor system, also known as a surround view monitor, processes video from four cameras and then stitches the four images into a single birds-eye, top-down view as if a camera was stationed directly above the vehicle. The monitor helps drivers visually confirm the vehicle's position relative to surrounding objects for easy maneuvering and parking.
The ISL79985 and ISL79986 integrate four analog video decoders with 10-bit ADCs to support four analog camera CVBS inputs simultaneously. The ISL79985's MIPI-CSI2 interface lowers system EMI, reduces the number of pins compared to a traditional parallel interface, and makes it easy to interface with the newest SOCs and ADAS processors. Both decoders include Renesas' proprietary automatic contrast adjustment (ACA) image enhancement feature that adapts to rapidly changing lighting conditions. ACA is able to automatically increase or reduce brightness and contrast to optimize the image for greater visibility and safety in low light and sunlight glare conditions.
Key Features and Specifications of ISL79985 and ISL79986
Integrate four NTSC/PAL/SECAM analog video decoders and 10-bit ADCs with differential, pseudo differential and single-ended inputs
4-H adaptive comb filter Y/C separation, and PAL delay line for color phase error correction
Software selectable analog input control for combinations of single-ended CVBS and differential CVBS
Integrates programmable automotive short diagnostics -- short-to-battery and short-to-ground detection -- on each differential input channel
ISL79985 integrates a MIPI-CSI2 output interface with MIPI standard Virtual Channel Identification
ISL79986 supports 108MHz time multiplexed ITU-R BT.656 line interleaved format to output four channels over a single 8-bit data bus
Integrated PLL to generate high frequency outputs while using a low cost 27MHz crystal oscillator
Advanced synchronization processing/sync detection handles non-standard/weak signal
Proprietary Automatic Contrast Adjustment (ACA) engine to dynamically optimize brightness and contrast levels
AEC-Q100 Grade-2 qualified for operation from -40°C to +105°C