Digital Hybrid DC/DC Controllers with PMBus
Featured Product from Renesas Electronics Corporation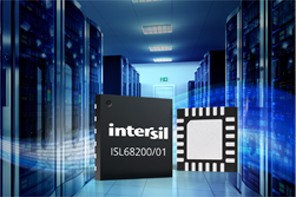 The ISL6820x PMBus™ compatible, single-phase digital hybrid DC/DC controllers provide POL conversions for FPGAs, DSPs, ASICs, processors and general purpose system rails.
The ISL6820x digital hybrid controllers are fully configurable with external pin-strap resistors, which provide a familiar engineering design flow and eliminate the need for non-volatile memory. Designers can use the PMBus interface and
PowerNavigator GUI software
to read back Vin, Vout, Iout and temperature telemetry, monitor fault reporting bits, and conduct on the fly changes to the Vout setpoint. For systems where PMBus functionality is not required, the interface can be used to debug the power supply during board bring-up, and then left disconnected in final production.
The ISL68200 and ISL68201 leverage Intersil's proprietary R4 modulation technology, which provides a compensation free control loop that eliminates external compensation resistors and capacitors.
ISL6820x Key Features
Proprietary R4 technology with industry-leading transient response
Input voltage range of 4.5V to 24V
Output voltage range of 0.5V to 5.5V
±0.5% DAC accuracy and remote voltage sense
Integrated LDOs for single input rail solution
Complete configuration with external pin-strap resistors, eliminating complicated NVM programming requirements
SMBus/PMBus/I2C compatible interface operating at up to 1.25MHz
Full PowerNavigator support
4mm x 4mm, 24-lead QFN package
Applications
High efficiency and high density POL digital power
FPGA, ASIC and memory supplies
Data center: servers, storage systems
Wired infrastructure: routers/switches/optical networking
Wireless infrastructure: base station

Play Digital Hybrid DC/DC Controllers with PMBus Video