Isolated RS-485 Transceiver
Featured Product from Renesas Electronics Corporation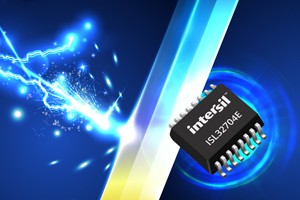 Renesas' ISL32704E isolated RS-485 transceiver provides 4Mbps bidirectional data transmission for Industrial Internet of Things networks. The high-speed ISL32704E delivers industry-leading EMI and CMTI in a small 4mm x 5mm QSOP package that is 70% smaller than competing solutions. It also provides 600VRMS of working voltage, which is approximately 50% higher than the closest competitor.
The ISL32704E RS-485 transceiver leverages GMR technology to provide galvanic isolation that keeps the communication bus free from common-mode noise generated in electrically noisy factory and building automation environments. The ISL32704E is ideally suited for the equipment-to-bus interface in IIoT networks that connect PLCs to instruments, robots, motor drives, data acquisition and digital I/O modules. The advantage of Renesas' ISL32704E GMR isolation over other isolation technologies is its low radiated emission and low EMI susceptibility. In addition, its GMR isolation does not require the elaborate encoding schemes found in capacitive and transformer-based isolators that use RF carriers or PWM to transfer DC and low frequency signals across the barrier.
The ISL32704E also offers 80% less power consumption than competing devices because it doesn't use current hungry power transfer coils or transformers. Its 20mA supply current allows the ISL32704E to operate in a tiny QSOP package at maximum speed without overheating. On the non-isolated control-side, the ISL32704E supports direct connection to a 3V MCU while the isolated bus-side connects to a higher voltage 5V supply for communication of strong bus signals across 100 meters and longer distances. The ISL32704E is fully compliant with the EN 50081 and EN 50082-2 electromagnetic compatibility (EMC) standards and the umbrella line-voltage standard for information technology equipment (ITE) EN 61000.
Key Features and Specifications of ISL32704E
4Mbps data rate enables high-speed data transmission
2.5kVRMS isolation per UL 1577 standard, and 600VRMS working voltage per VDE 0884 standard
Supports 3V to 5V power supplies
Single unit load allows up to 32 devices on the bus
50kV/µs (typ), 30kV/µs (min) common-mode transient immunity provides reliable data transmission in noisy environments
Offers a barrier lifetime of 44,000 years
15kV ESD bus-pin protection
Low EMC footprint
Thermal shutdown protection prevents damage during bus contention, or when lines are shorted causing excessive bus current flow
Operation from -40°C to +85°C
Meets or exceeds ANSI RS-485 standard
VDE V0884-11 certification pending