Ultra-Low Power Renesas Synergy S1JA MCU
Featured Product from Renesas Electronics Corporation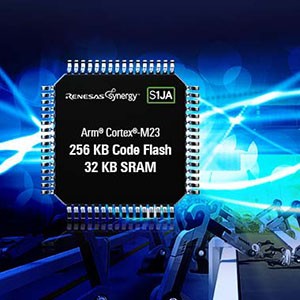 The new ultra-low power S1JA MCU Group expands the Renesas Synergy™ S1 microcontroller (MCU) series, providing best-in-class programmable analog and security functions for high-accuracy sensor signal acquisition and conditioning for cost-sensitive and low-power Industrial Internet of Things (IIoT) sensor applications such as flow control meters, multisensor systems, headless medical monitors and instrumentation systems, and single-phase electricity meters.
The S1JA is the first MCU in the Renesas Synergy S1 Series to offer rich analog features. Its superior programmable analog capabilities enables engineers the utmost MCU flexibility to explore algorithms that maximize performance and achieve design goals without adding significant overhead to BOM cost and board space.

The S1JA Group MCUs can be combined with the ultra-low noise ISL21090B25 precision voltage reference and ISL32485E 5V differential RS-485/RS-422 transceiver to create high precision, ruggedized industrial sensor applications.
Key Features:
Up to 256 KB flash memory and 32 KB SRAM memory
Wide operating voltage range of 1.6-5.5V
Sensor-biasing unit that supplies accurate power to the external sensor
Highly configurable analog fabric that processes complex algorithms to maximize signal conditioning and precise analog measurements
On-chip analog components include:

High accuracy 16-bit analog-to-digital converter (ADC
24-bit sigma-delta ADC
Fast response 12-bit digital-to-analog converter (DAC)
Rail-to-rail low-offset operational amplifiers
High-speed/low-power comparators