LM13 Magnetic Encoders for Harsh Environments
Product Announcement from Renishaw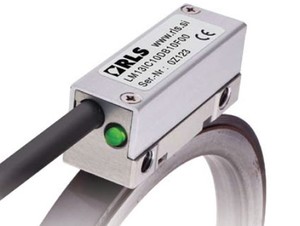 New linear magnetic encoders for harsh environments, tight spaces and measuring lengths to 100 m.
Just 14 mm tall, LM13 encoder offers user-selectable resolution up to 250 µm, with velocities up to 4 m/sec at 1 µm resolution.
New LM13 linear magnetic encoders bring big performance to small spaces and tough applications. Just 14 mm tall and consisting of only a readhead and separate self-adhesive scale, the LM13 gives OEM designers an ultra-compact package that's ideal for industry's toughest applications in woodworking, metalworking, stone cutting, paper converting, and laser/flame/water-jet cutting,. Magnetic sensing delivers dependability in applications too dusty, dirty, greasy or destructive for optical encoders.
Engineered for extreme service, LM13 encoders handle operating temperatures from 10°C to 80°C, providing waterproof sealing to IP68 and high resistance to shock, vibration and pressure. Frictionless operation eliminates wear, while reducing system inertia and hysteresis for high precision at high speeds and acceleration loads.
LM13 encoders produce a digital, square-wave signal output to RS422, with nine customer-selectable resolutions between 1 and 250 µm, and velocities up to 4 m/sec at 1 µm resolution. The encoder comes with bidirectional reference that can be actuated by a preset mark integrated into the scale, or by adding a reference sticker on top of the scale using the self-aligning installation tool.
Simple to install, the LM13 features and integral setup LED on the readhead, wide installation tolerances, and an applicator tool for the adhesive-backed scale. The scale is available either "cut to length" or in lengths up to 100 m in easy-to-handle coils.
The new Renishaw linear encoders join the proven family of RLS magnetic rotary and ring encoders designed and manufactured by Renishaw's associate company RLS d.o.o. in Slovenia.
As with all Renishaw products, a worldwide application support network and local inventory give confidence to system developers and OEM volume producers.
For more information on the LM13 linear magnetic encoders, contact Howard Salt, Business Manager, Encoder systems, Renishaw, Inc., 5277 Trillium Boulevard, Hoffman Estates, IL 60192. Phone 847-286-9953; fax 847-286-9974. Email: howard.salt@renishaw.com
For a detailed look at other productivity enhancements for metrology, linear and rotary position feedback, and machine tool calibration, visit Renishaw's web site at: http://www.renishaw.com/encoders
---