Optical Angle Encoders, High-Precision Encoders
Product Announcement from Renishaw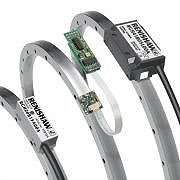 RESR and SiGNUM™ Optical Angle Encoders from Renishaw. Renishaw's high accuracy angle encoders are available in a large range of diameters and line counts to provide compatibility with standard controllers. Based on a one-piece stainless steel ring with axial graduations marked directly onto the periphery. Available in both standard or low inertia sections to suit a diverse range of applications.
CLICK HERE for more information and specifications for Renishaw's line of Optical Angle Encoders
The RESM and RESR angle encoders feature a large internal diameter, giving them an ultra-low section and a very low moment of inertia. This means that whenever they are installed, the rotor can be positioned with minimal torque and maximum speed.

In addition, the large internal diameter provides somewhere convenient to feed all the necessary cables and pneumatic supplies making integration easier than ever.

Do not be misled by the slim cross section – it does not compromise accuracy. In fact, Renishaw's patented taper mount compensates all installation tolerances, including those of the parent mounting surface. Eccentricity and ovality are also corrected by easy, robust and fine adjustment.

Specific model information and specifications (Click on the product for additional information)
Click here to use our Encoder product configurator. To find the part number of the specific SiGNUM™, optical or magnetic encoder you require just answer a few simple questions.
View our complete line of Position Encoders (Click a product group for additional information)
About Renishaw's Position Encoders:
Renishaw offers a wide range of compact optical, magnetic and laser encoder systems to meet the requirements of the diverse industry sectors supplied. As well as offering unrivalled performance Renishaw's encoder systems simplify installation and minimise cost of ownership.
Laser encoders have an intrinsically high resolution which, combined with a system architecture that eliminates Abbe error, provide the highest possible positioning accuracy. Laser encoders offer precision feedback for a variety of applications, ranging from long axis machine tools to X-Y wafer inspection systems.

Optical linear and angle encoders offer easy installation and set-up, with many patented features including filtering optics and a set-up LED that remove the need for oscilloscopes and other complicated set-up equipment. Optical encoders are applied in almost all sectors of industry including metrology, motion systems, electronics, semiconductor handling, medical, scanning/printing, scientific instruments, space research, photography and specialist machine tools.
---