The Simplest Laser-Based Tool Detection System
Featured Product from Renishaw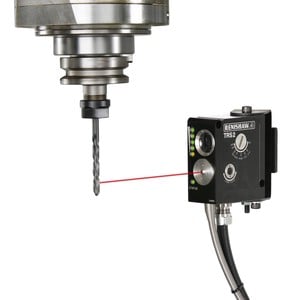 Renishaw halves the hardware and applies unique tool recognition electronics in the new, second-generation TRS2 broken tool detection system. The unique single-head system makes fast, precise laser checking affordable and practical for all kinds of machine tools. Industry-first "all-in-one" design combines the laser source and detection electronics in a single compact unit just 83mm high x 38mm wide x 73mm deep (3.27" x 1.50" x 2.87"). It enables easy mounting outside the work zone, safe from collision. Proprietary ToolWise™ electronics analyze reflective light patterns from the rotating tool, eliminating random light patterns created by coolant and chips. This prevents mis-readings and tools getting "lost" in coolant.
The TRS2 can detect a whole range of solid center tools, including drills, taps, reamers, slot drills, standard and ball nose end mills, and now even gun drills. Tool recognition typically takes only a second. The system can process tools as small as 0.2 mm, while screening out chip and coolant mis-readings.
The versatile TRS2 can be easily fitted to everything from mini drilling systems for electronics boards to large machining centers. The laser system offers wide detection range — 0.3m to 2.0m (13" to 80"). Simple integration eliminates need for special alignment hardware, complex mounting brackets, or software-based calibration and alignment cycles. A five-tiered LED enables fast set-up and provides a visual indication of signal strength. Macro-based software is supplied with each system supporting a wide range of controllers. No M codes are required for operation. The TRS2 can be mounted to any rigid surface of the machine. Positioning of the TRS2 relative to the tool is not critical and does not require accurate alignment with the machine's axes.
Unique to Renishaw, the Toolwise electronics technology analyzes reflected light patterns from the rotating tool as it enters the beam, rejecting random light patterns created by coolant or chips. Tool edges generate a regular light pattern as the tool spins, while chips and coolant give random reflections. A repeating pattern represents a tool present and whole. A non-repeating pattern indicates a broken or absent tool. The advanced electronics can detect and process reflections off both bright and dark tools.
New on the TRS2, monitoring can be provided at three different tool rotation speeds — 5000 rpm, 1000 rpm and 200 rpm — to cover a wide range of applications and tooling. Used for high-speed tools, 5000 rpm is the default speed and gives the shortest cycle time. Intermediate 1000 rpm can be used for tools rated for less than 5000 rpm, particularly large, heavier tools. The slowest speed, 200 rpm is intended for gun drills.
The TRS2 is supplied with a filter regulator assembly that delivers a constant supply of clean dry air protecting the laser against contaminants. This proven protection method was adapted from Renishaw's Non-Contact (NC) family of laser toolsetters.