ISO Guide 34 and 17025 Accreditations
Featured Product from Restek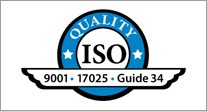 It takes exceptional quality and service to earn these ISO accreditations and offer certified reference materials (CRMs). Whether or not you're required to use CRMs, you can source your reference standards-even customs!-from us and enjoy the benefits.
Restek's reference standard manufacturing and QC testing laboratories in Bellefonte, PA, feature ISO 17034 and ISO/IEC 17025 accreditations. Issued by the American Association for Laboratory Accreditation (A2LA), these accreditations-as well as ISO 9001 registration, which has been maintained since 1994-serve as recognition that Restek and its labs meet the world-class quality standards established by the International Organization for Standardization (ISO).
Whether or not you are required to use certified reference materials (CRMs) from an accredited lab, you can source your primary- and secondary-source reference standards from Restek and benefit from the exceptional product quality and customer service needed to meet strict ISO guidelines. In addition to an extensive selection that is in stock and ready to ship, Restek's custom-formulated solutions also fall under our ISO accreditations. Satisfy all of your certified reference material needs-as well as order GC and LC columns, sample preparation supplies, and accessories-using one reliable supplier!