Retrofit RAVE Valves for Air Sampling Canisters
Featured Product from Restek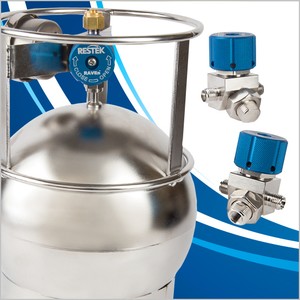 Restek Air Valve Excellence (RAVE) is now available for the easy retrofit of 3.2 L, 6 L, and 15 L Entech air sampling canisters. These new RAVEn valves have an identical internal design to the incredibly popular and rugged RAVE valves recently released on Restek's SilcoCan, TO-Can, and miniature air sampling canisters. Upgrade from your TOV and TOV-2 valves-with no modification needed!
Order today at www.restek.com/air
About RAVE Valves
Restek Air Valve Excellence (RAVE) brings proven long life, leak-free performance, and effortless operation to your air sampling canisters. This durable design has been engineered to exceed 15,000 cycles-and every valve is leak-tested with helium to 1×10-6 mL/sec before it leaves our facility. The W-type valve seats are work-hardened to enhance damage resistance, while the wetted surfaces contain no moving parts. And because convenient, reliable field use isn't just about withstanding the rigors of harsh environments, the RAVE valve achieves full closure with a quick twist of the fingers (only 10 in-lb) and is easy to access, even for big hands or when wearing bulky gloves.
Standard on Restek's full line of SilcoCan, TO-Can, and miniature air sampling canisters, these American-made valves are also ideal for upgrading existing canisters. Rugged stainless steel RAVE valves can be ordered with Siltek® treatment for added inertness and either 2 or 3 ports to accommodate an optional gauge. Plus, diaphragm rebuild kits are available to further extend the life of these long-lasting air valves. Turn to your trusted partner for air sampling and chromatography-order Restek Air Valve Excellence for your air sampling canisters today.