26.5 - 29.5 GHz Beamformer IC from MixComm
Featured Product from Richardson RFPD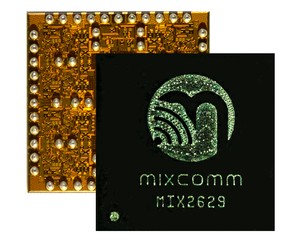 The SUMMIT 2629 integrates novel power amplifiers, low
noise amplifiers, T/R switching, beamformers, calibration, gain control, beam
table memory, temperature and power telemetry, and high-speed SPI control for
a front-end module with optimal partitioning for 5G infrastructure. The device is
fabricated on GLOBALFOUNDRIES® (GF®) 45RFSOI which has inherent advantages
over other semiconductor technologies for infrastructure applications. The
SUMMIT 2629 operates from 26.5-29.5GHz and is the first of a family of MixComm
mmWave devices.

MixComm SUMMIT 2629 Product Highlights:
• Industry leading efficiency more than 2X better than existing solutions
• Four-element Dual-pol. TX/RX with Independent Polarization Beam
Directions
• High-Power, High-Efficiency SOI CMOS Power Amplifiers
• State-of-the-art Low-Noise Amplifiers and Low-Loss T/R Switching
• Ultra-low Transmit and Receive-Mode Power Consumption
• 6-bit full-360o Phase Shifting and 0.5dB-step 16dB-range Variable Gain in
Each Path
• Fully calibrated for Gain/Phase Matching Across ICs
• Extensive On-chip Temperature and Power Sensing
• On-chip Gain Control for Temperature Compensation
• High-Speed SPI with Large On-Chip Beam Table Storage
• Wafer-Level Chip-Scale Package (WLCSP) compatible with low-cost PCB
manufacturing
• Support for Large-Scale Arrays through Multiple Chip-Addressing Modes
SUMMIT 2629 has been designed to address the critical challenges that currently
constrain 5G mmWave success, by:
1) Extending range to decrease carrier cost and improve customer satisfaction,
2) Reducing thermal and electrical power consumption budgets, and
3) Optimizing antenna arrays to reduce module cost.
These benefits make the MixComm solution ideal for 5G infrastructure ranging
from gNodeB base stations and repeaters to customer premise equipment. The
flexible architecture and ultra-low power operation will also enable 5G hotspots
and other user equipment demanding long battery life and sleek form factors.