300W, 6.78 MHz eval board for wireless charging
Featured Product from Richardson RFPD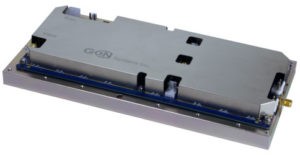 GaN Systems 300W, 6.78 MHz Class EF2 Power Amplifier For Wireless Power Transfer available from Richardson RFPD.
The GSWP300W-EVBPA evaluation board is designed to support and expedite the innovation of wireless power transfer systems. The evaluation board uses
GaN Systems' GS66508B E-HEMTs in a 300W 6.78MHz class EF2 power amplifier. With select component changes, the evaluation board can operate up to a power level of 1000W.
Target applications include the wireless charging and powering of drones, robots, power tools, ebikes, AGV and more.
Multiple configurations – constant current mode or constant voltage mode
Push-pull with EMI filter
Single ended mode with/without EMI filter
650V / 30A, 50mΩ GaN E-HEMTs
High speed GaN driver
Over temperature protection
Download the user guide here.