SCALE-iDriver ICs Optimized for IGBTs and MOSFETs
Featured Product from Richardson RFPD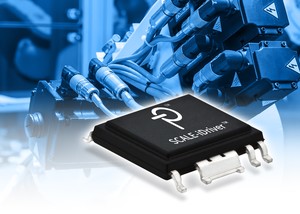 Click here to request samples from Richardson RFPD for Power Integrations' SCALE-iDriver™ Family of gate driver ICs. These single-channel IGBT and MOSFET drivers come in a standard eSOP package. Reinforced galvanic isolation is delivered using Power Integrations' innovative solid insulator FluxLink™ technology. Output drive current up to 8 A (peak) enables the product to drive devices up to 450 A (typical) without requiring any additional active components. For higher current switching semiconductors, where the required gate current exceeds the SCALE-iDriver's stand alone capabilities, an external amplifier (booster) may be added. Stable positive and negative voltages for gate control are provided by one unipolar insulated voltage source.
Additional features such as short-circuit protection (DESAT) with advanced soft shut down (ASSD), undervoltage lock-out (UVLO) for primary-side / secondary-side and rail-to-rail output with temperature and process compensated output impedance guarantee safe operation even in harsh conditions. Controller (PWM and fault) signals are compatible with 5 V CMOS logic, which may be adjusted to 15 V levels by using external resistor divider.
Click here for a datasheet on the SCALE-iDriver family.
Highly Integrated, Compact Footprint
Split outputs providing up to 8 A peak drive current
Integrated FluxLink™ technology providing safe isolation between primary-side and secondary-side
Rail-to-rail stabilized output voltage
Unipolar supply voltage for secondary-side
Suitable for 600 V / 650 V / 1200 V / 1700V IGBT and MOSFET switches
Up to 250 kHz switching frequency
Low propagation delay time 260 ns
Propagation delay jitter ±5 ns
-40 °C to 125 °C operating ambient temperature
High common-mode transient immunity
eSOP package with 9.5 mm clearance and creepage
Advanced Protection/Safety Features
Undervoltage lock-out protection for primary and secondary-side (UVLO) and fault feedback
Short-circuit protection using VCESAT monitoring and fault feedback diodes* or resistor chain** (see Figure 1)
Advanced soft shut down (ASSD)
Full Safety and Regulatory Compliance
100% production partial discharge test
100% production HIPOT compliance testing at 6 kV RMS 1 s
Reinforced insulation according to VDE 0884-10
Comparative Tracking Index (CTI) = 600 Green Package
Halogen free and RoHS compliant