Wolfspeed 1700V SiC MOSFET in optimized package
Featured Product from Richardson RFPD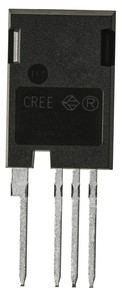 Part number: C2M0080170P
Wolfspeed extends its leadership in SiC technology by introducing two 1700V SiC discrete MOSFETs in optimized packing with wide creepage and clearance distance between drain and source (~8mm) thereby providing extra electrical isolation suitable for high pollution environments.
The package includes a separate kelvin source pin which reduces the source inductance found in traditional TO-247-3 packages and can reduce the switching losses by as much as 30%. The newly released products are available in 45mΩ (C2M0045170P) and 80mΩ (C2M0080170P) and are designed for newly evolving applications requiring a 1500V blocking capability.
Designers can reduce component-count and simplify designs by moving from multi-level topologies to simpler two-level topologies made possible by the improved switching performance and higher blocking capability. The device features low on-resistance combined with a low gate charge, making it ideally suited for solar boost converters, DC-DC applications as well as AC-AC converters.
Features
Minimum of 1700V Vbr across entire operating temperature range
Optimized package design with wide creepage/clearance between drain and source for high-voltage capability in high-pollution environments
Separate power source pin lowers source inductance and provides lower switching losses
Clip-mount design with no center mounting hole provides improved electrical isolation
8mm of creepage/clearance between drain and source
Fast intrinsic diode with low reverse recovery (Qrr)
Easy to parallel and simple to drive