Wolfspeed SiC 20 kW LLC Reference Design
Featured Product from Richardson RFPD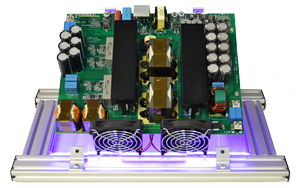 CRD-20DD09P-2: 20kW Full Bridge Resonant LLC Converter for 1000V, 65 mΩ SiC MOSFETs in a 4L-TO247 package
> Evaluate converter level efficiency and power density gains when using the new 1000 V, 65 mΩ SiC MOSFETs in a 4L-TO247 package in a full bridge resonant LLC circuit
> Check waveforms such as Vgs and Vds and Id for ringing
> Evaluate thermal performance
> Integrate a SiC based isolated DC/DC stage in a larger multi-stage prototype system for evaluation (a fast DC charger for electric vehicles, for example)
> Serves as a printed circuit board (PCB) layout example for driving Gen3 SiC MOSFETs with a Kelvin source pin
> Conduct parallel operations of Gen3 MOSFETs in an LLC circuit
The CRD-20DD09P-2 is available for purchase from Richardson RFPD. Basic specs for the hardware include:
> Input voltage: 700Vdc-750Vdc
> Output Voltage: 300Vdc-700Vdc
> Output power: 20KW
> Power Density: >45W/cube inch
> Wolfspeed devices: 8pcs C3M0065090D 4L, 4pcs C4D20120D, 2pcs C3D10060A and 1pcs C2M1000170D
The device may be run in either a constant voltage mode or constant current mode. It operates at a resonant frequency of 200 kHZ. The peak efficiency of 98.4% is very good at this power level and given the compact size (PCBA size: 275 x 220 x 65 mm) fo the unit.
SiC's value can really be harnessed in the high frequency isolated DC/DC stage of a fast DC charger for electric vehicles. Silicon carbide's ability to improve efficiency, reduce switching losses and deal with high temperatures is relatively well-known. One advantage that may be overlooked is its ability to simplify and existing topology or system.
To achieve high voltages and maintain good performance, current designs typically use multilevel topologies, as well as cascaded or interleaved, 2-level topologies. In fact, these multilevel and cascaded designs were originally developed to overcome some of the limitations of high-voltage silicon devices by allowing us to use lower voltage Silicon devices which have lower switching losses. Silicon carbide enables great switching performance at high voltages. So it allows designers to go back to a simple 2-level design—simplifying the design itself, reducing component counts, and improving the reliability of the product without sacrificing performance.
Wolfspeed's 1000 V C3M devices are ideal for DC fast charger applications. The CRD-20DD09P-2 is one of the support tools integrating these innovative SiC MOSFETs available to help designers with their own DC fast charger system designs.