Configurable Dual Axis All-in-One Inclinometer
Product Announcement from Rieker, Inc.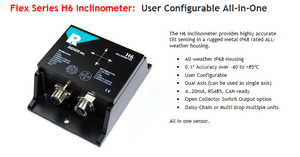 Introducing Rieker H6 Flex Series
The Only Inclinometer You'll Ever Need
The H6 inclinometer provides dual axis inclination sensing in a rugged environmentally protected housing.
This unit incorporates a MEMS sensing element referenced to gravity with integrated temperature compensation over the industrial operating range of-40° to +85°C. The H6 provides a ontinuous analog 4..20mA current output and a selectable digital output of either a polled RS-485 half -duplex (2-wire) or CAN output. All outputs are linear with respect to the input angle directly.
Used as integrated devices by original equipment manufacturers (OEMs) or as standalone sensors for test and measurement, the H6 is made for applications where high accuracy and long-term stability are required in noisy and wide temperature changing environments.
The output parameters can be modified at the factory to meet your specifications (i.e. range, polarity). We also offer the Flex Series Development Kit allowing the end customer to modify the sensor as needed right from a PC - providing full flexibility for R&D and OEM production lines. For any application including commercial, industrial, military applications.
All-weather IP68
0.1º Accuracy Over Temp
User Configurable
360º Dual Axis
4..20mA
RS485
CAN
Open Collector
Daisy-chain or Multi-drop
All-in-One Package
Rieker Inc, a worldwide leader in the manufacturing of quality electronic and mechanical inclinometers, is committed to customer service, product availability, technical support, and performance. Rieker's technological excellence, supported by continuing substantial investments in research and development, has been the foundation of growth, and helps to ensure quality products for our customers.
> Decades of Manufacturing Experience
> Stock & Custom Made-to-Order Instruments
> International Sales and Distribution
> Multi-cultural and Bi-lingual Staff
Rieker Manufactures to MIL-I-45208A and MIL-STD-45662
---