Gradiometers, 5012P Accurate Grading Instrument
Product Announcement from Rieker, Inc.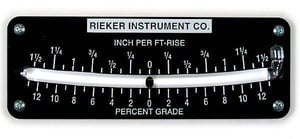 Features
Highly Accurate Grading Instrument
Two (2) scales, two (2) ranges
Upper Scale in Inch Per Foot Rise gives accurate 1/8" (0.125") readings up to ±1.5"/Ft Rise
Lower Scale in Percent Grade gives accurate 1% readings up to ±13% Grade
Description
A Gradiometer is any of various surveying instruments for measuring angles of elevation, slope, or incline, as of an embankment or roadway. Also called clinometer or inclinometer, the 5012P provides accurate measurement of slope in Percent Grade and Inch Per Foot Rise. Rieker manufacturers these manual type gradiometers (or inclinometers) using precise glass tube and ball construction. All our tubes are filled with a special dampening fluid that controls the movement of the ball. The fluid combined with large, clear number and degree markings make it easy to get quick, accurate readings under a wide variety of severe environmental conditions.
Applications
Plows, graders, excavators, trenchers, and pavers are only a few examples of the types of applications well suited for gradiometers.
Rieker is a leading manufacturer of Electronic and Mechanical Inclinometers for a variety of industries worldwide - accurate, rugged inclinometers, boom angle indicators, custom slip indicators, and tilt warning devices. Our inclinometers are used by multiple industries including: Agriculture, Aviation, Construction, Drilling, Government, Industrial, Marine, Military, Mining, and Transportation.
We are celebrating our 92nd year as a leading inclinometer manufacturing!
---