Backlit Inclinometers for Night Visibility
Product Announcement from Rieker, Inc.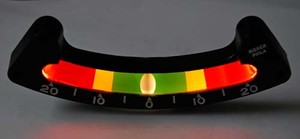 Description
These highly visible backlit models were specifically developed for fire trucks that are required to have all instrumentation lighted models 1017 (±10º) and 1023 (±20º) comply with National Fire Protection Association 1901 Standards for Automotive Fire Apparatus.
However, these are well suited for any industry when instrumentation must be visible in low light or night operation. Available in single piece and OEM volumes alike.
Also referred to as a clinometer or ball in tube level, the "-12VT" models are backlit versions of our precision inclinometers that have been in the field for decades.
Same high quality expected from Rieker, with a new innovative technique that lights the tube (not the housing) so you can actually see the ball position. Available with customer specified color zones on the tube for best visibility.
Features
Long lasting Bright White LED Integrated into Existing Housing.
Max current draw approx. 40mA at max input voltage.
Standard 12VDC or 24VDC input supply voltage (8-30VDC).
Same ALL-weather performance.
Same Precision Glass for Clear Viewing AND Best Ball Roll.
Same Rugged Die-Cast Aluminum Housing.
Same Customer Specified Color Warning Zones - easy to see quick reference of safe or danger zones - on tube for best visibility!
Same Operating Temperature -40ºF to +160ºF
Applications
Quick and Accurate Visual Reference for Low Light or Night Operation
Leveling, Balancing and helps Prevent Tip-over
Machining or Anywhere Precise Leveling Required
Equipment Types
Aerial lift trucks, Bucket/utility trucks, Cranes, Construction Equipment, Conveyor and Material Handling Equipment, Emergency and Fire trucks, Government and Military Vehicles, Trailers.
Contact us today for a quote. OEMs welcome, quantity pricing available.
---