Welcome to Our Redesigned Website
Featured Product from Rieker, Inc.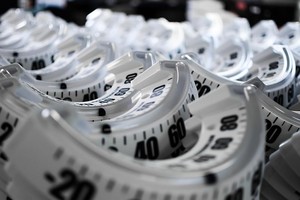 Welcome to Our Redesigned Website
We are proud to announce the launch of our newly redesigned website! On behalf of all of us at Rieker Inc. welcome! Our old website has served us well throughout the years, but technology continues to advance and develop and so do we. With this redesign, we are able to leverage new tools and processes to improve our customer's experience on our website.
Online store
At Rieker, we decided to offer a large selection of our most popular inclinometers and sensors for purchase online.
With the digital age of companies like Amazon, online shopping has become a staple of our society. At Rieker, we wanted to offer the convenience, speed, and reliability of online shopping to our customers. All of the parts for sale on the website are ready to ship within 24 business hours of an order being placed.
For a customer that knows exactly what they need that is a great service! That said, we know that sometimes we are not exactly sure what part number, model, or variation of a product we need. No need to worry – one of the main focuses of the new redesign is to help guide customers to the right parts! We have spent many months designing and creating several different tools that our customers can use to find what parts they need.
Search the entire website
Our customers are now able to search our entire website from anywhere. The search function is present on the top right of every page and allows customers to use keywords or part numbers to find a product they need.
BROWSE BY PRODUCT CATEGORY or BROWSE BY PRODUCT APPLICATION
Rieker serves a vast amount of different industries and customers, all of whom require our sensors to perform different functions in different applications. We organized and categorized our most popular applications in categories for easier navigation.
FILTER BY SPECIFICATION
Customers are now able to filter our products by different specification and parameters. The "Filter By Specification" option is available in two different areas of our new website. Filter by Specification is available on our Home Page "Specification" Tab as well as any shop page while browsing our products.
Home Page Tab Shop page
Rieker Inc
Founded in 1917, Rieker Instrument Company Inc began manufacturing high quality inclinometers using hand blown glass tubing to exacting customer specifications. It's earliest applications were used in the medical and aviation fields, providing accurate quality low cost solutions for measuring tilt and acceleration… Read More
MISSION
Rieker Inc, a worldwide leader in the manufacturing of quality electronic and mechanical inclinometers, is committed to customer service, product availability, technical support, and performance. Rieker's technological excellence, supported by continuing substantial investments in research and development, has been the foundation of growth, and helps to ensure quality products for our customers.