Alchemist DT Benchtop liquid handling system
Product Announcement from Rigaku Corporation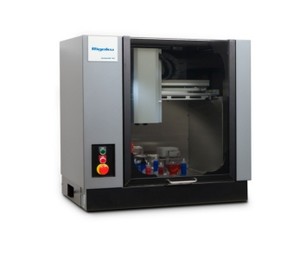 Screen preparation is not only tedious, time consuming and potentially error prone, but the accuracy with which a screen design can explore the high dimensional chemical space determines whether a crystallization experiment leads to a hit. The Alchemist simplifies fine and coarse screen production with unmatched accuracy using patented "Tapper" technology, no cross contamination and no waste with patented BirdFeeders™, and fast and simple screen optimizations with the CrystalTrak™ software package.
Unmatched Accuracy
The accuracy achieved by automated screen makers is best gauged by coefficients of variation, "CVs," a measure of deviations between actual and target dispense volumes. The Alchemist DT achieves CVs of less than 3% down to 1 μl even for the most difficult to dispense stocks, namely highly viscous PEGs. This unmatched precision is achieved with the Tapper technology. The Tapper's name comes from the action of a rapid "tap" applied to the syringe plunger as a method of removing the residual drop that remains on the needle at the end of a syringe dispense.
No cross contamination, no waste
Cross-contamination creates problems when trying to reproduce experiments, while waste of chemicals such as detergents can drive up the cost of experimentation dramatically. Although seemingly unrelated, cross-contamination and waste originate from sharing components (pipettes, tubing, receptacles) of the dispense setup. The Alchemist eliminates this problem by introducing BirdFeeder technology. With BirdFeeders, each chemical is stored in a self-contained vessel and off-the-shelf consumables-Nalgene bottles and Eppendorf pipettes-are used for on-deck storage and non-contact dispensing.
Fast and simple screen optimizations
Included with every Alchemist is CrystalTrak, a software package designed specifically for protein crystallography. It features a comprehensive crystallization and chemical database that includes most commercial screens, and enables easy screen design and one-click optimization tools. Once you design your screen, CrystalTrak automatically calculates the recipe and defines the necessary stock solutions for use with the Alchemist. Stock management tools and barcode tracking ensure that the correct stock solutions and necessary volumes of solutions are available on the deck before any screen generation begins.
Alchemist DT specifications
Tapper™ technology enables dispensing down to 1 μl with a total CV of less than 3%
Holds up to 26 barcoded stock solutions in patented BirdFeeder containers
Consistent, precise and accurate liquid dispensing in a volume range of 1 μl to 10 ml
Complex fine screens can be set up in under 3 minutes, with an entire screen created in under 25 minutes
Interchangeable plate nest adapters enable dispensing into SBS, Linbro and Nextal footprint plates
Alchemist DT applications
The Alchemist DT is a liquid handling system designed specifically for the structural biologist who is attempting to grow protein or other macromolecular crystals.
Creation of coarse screens based on standard commercial screens
Creation of fine screens optimized for initial crystal growth
---