TXRF 3760 Surface contamination metrology
Product Announcement from Rigaku Corporation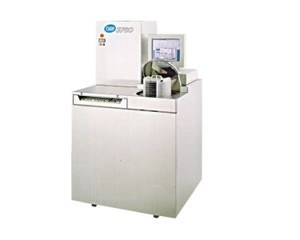 TXRF analysis can gauge contamination in all fab processes, including cleaning, litho, etch, ashing, films, etc. The TXRF 3760 can measure elements from Na through U with a single-target, 3-beam X-ray system and a solid-state detector system.
The TXRF 3760 includes Rigaku's patented XYθ sample stage system, an in-vacuum wafer robotic transfer system, and new user-friendly windows software. All of these contribute to higher throughput, higher accuracy and precision, and easy routine operation.
Optional Sweeping TXRF software enables mapping of the contaminant distribution over the wafer surface to identify "hot spots" that can be automatically re-measured at higher precision.
Optional ZEE-TXRF capability overcomes the historical 15 mm edge exclusion of original TXRF designs, enabling measurements to be made with zero edge exclusion.
TXRF 3760 specifications
Size of wafer: 200 mm max.
Rotating-anode X-ray source
Sample stage: XY θ stage
Solid-state detector
Oil-free electrical transformer
Three-beam excitation
Automatic optics alignment
Data import from external surface defect inspection tool
TXRF 3760 applications
The application of TXRF analysis is not limited to the analysis of metallic contamination on bare silicon wafers. TXRF analysis can be used to gauge the cleanliness of all fab processes, including cleaning, lithography, etching, ashing, films, etc. Beyond silicon devices, TXRF is also applicable to the fields of compound semiconductor devices, MEMS, organic electroluminescent materials, etc.
bare wafer
filmed wafer
patterned wafer
VPD-processed wafer
glass wafer
GaAs / SiC / sapphire
---