Water Cooled Transformers for Glass Melting
Featured Product from RoMan Manufacturing, Inc.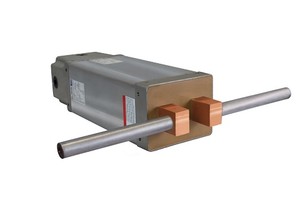 Ideal for optimizing the melting, boosting, refining and forming of Fiberglass, Container glass, Float/Flat glass, LCD glass and Specialty glass.
Smaller in size and lighter weight, our water-cooled transformers are used closer to the heat source (close-coupling).
Increased Efficiency & Reduced Costs
Close-coupling improves energy efficiency, while substantially reducing energy, installation, operation and maintenance costs. Available in various voltages and frequencies, the size and capability of our Glass AC transformers can be designed to meet your application's requirements.
Our Special AC transformers feature:
Single Phase
Three Phase (Delta to Wye, Delta to Delta, Wye to Wye, Wye to Delta, Engineered Solutions, Scott-T)
Isolation Type
Auto Type
Interphase
Multi Pulse
Step Up
Step Down
Frequency Range: 50 - 2,000 Hz
Fully encapsulated to ensure long life
KVA Range: 1 kVA to 15MVA
Integration capabilities with controls such as SCR's, IGBT's and Saturable Reactors
Typically all Copper Windings