JT Series Submersible Pumps
Featured Product from Robert J. Fitzmyer Co., Inc.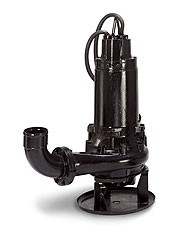 The JT Series submersible pumps, carried by Robert J. Fitzmyer, are excellent for submerged applications without guide rails. These pumps are designed specifically for solids handling and incorporate several engineering features that prevent jamming and clogging, the two most common problems in pumping fluids containing solids. These models feature a semi-axial flow impellers that have a large free passage that will handle up to 5.5" diameter spherical solids, depending on pump model. The impeller design has long screw-like vanes for handling long rags and other debris. These pumps will operate at peak efficiency by maintaining the proper clearance between the impeller and volute. The impeller cleance can be adjusted quickly and easily by turning three external screws. No disassembly or replacement parts are necessary.
A leading distributor of pumps and industrial equipment, the Robert J. Fitzmyer, Co., Inc., is the source for high quality pumping products from manufacturers such as ARO, Deming, Gorman-Rupp, Blackmer, Wanner Hydra-Cell, and Dean Pumps. From centrifugal and self-priming pumps to positive displacement and air operated pumps, Fitzmyer Co. carries the
best brands in the industry for all pump replacements, parts, and new
pump installations.