Minimize Downtime and Increase Efficiency with ARO
Featured Product from Robert J. Fitzmyer Co., Inc.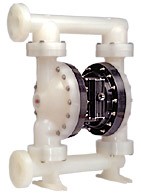 Robert J. Fitzmyer's ARO pneumatic piston pumps can help increase plant productivity by providing quick container change-over, operator convenience, a cleaner working environment, increased material savings and minimized downtime. Let ARO piston pumps increase your plantproductivity, not just once but day after day.
ARO piston pumps provide industry proven dependability, economy, and precision control for the delivery of a wide range of flowable materials. The efficient, simple design and
construction of ARO piston pumps are the reason they are recognized as one of the most dependable, versatile and accurate on the market. Whether you're moving a small amount of low viscosity fluid a few feet or a large amount of high viscosity material a longer distance, ARO has a pump to meet your application needs.