Quality Gear Pumps
Featured Product from Robert J. Fitzmyer Co., Inc.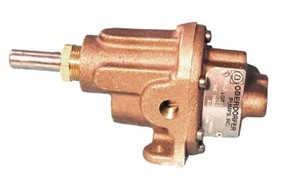 Robert J Fitzmyer offers a large variety of gear pumps from Oberdorfer™. Gear pump models includes external gear, pedastal mount, clutch drive, motor mount and stainless steel options. One hundred years ago, Oberdorfer introduced their bronze gear pump and they are still serving the industry today with the same standards of quality and innovation.
"You guys build one heckuva pump."
We've heard this many times from our customers. With more than 100 years of manufacturing a variety of pumps, the Oberdorfer™ name has become synonymous with quality, on-time delivery and accurate performance specifications. No matter what your application, flow and pressure needs may be, there's an Oberdorfer™ pump capable of meeting the requirements of your material handling. All four of our pump families: Gear, Centrifugal, Rubber Impeller and CHEMSTEEL™ pumps are manufactured according to our zero downtime standards and are designed to be quickly interchangeable with your equipment.
Whether you're an OEM, distributor or end user, Oberdorfer™ is where quality, innovation and service come together to provide one heck-uva pump.