Industrial Backward Curve Fans
Product Announcement from Robinson Fans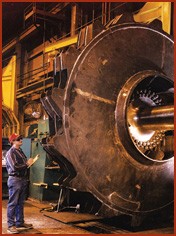 Robinson Backward Curve (BC) industrial fans represent a versatile fan series for high efficiency service.

Applications

Used for a wide range of applications in many industries, BC fans are engineered and built to accommodate capacities to one million cfm and pressure ranges to 120inches water pressure.

BC Series fans from Robinson are currently in operation in cement, power, coal, lime and paper facilities throughout the U.S. and the world. Robinson builds BC wheels to 180 inches diameter and, as required, units are constructed of special alloy materials.
Research/Performance Testing

The BC fan is available from Robinson as a result of ongoing research and testing in Robinson's lab facilities.

BC prototype fans have been tested by Robinson on the basis of air performance, sound and vibration. Test data and field experience provide Robinson with the expertise to engineer and build fans for quiet, high-efficiency service.
---