Bearing Supports
Featured Product from Rockford Ball Screw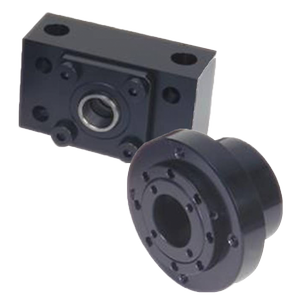 Every screw assembly functionally requires a means of supporting the rotational axis of the screw and absorbing the radial and axial force components, e.g.
Bearing support utilizing rolling element bearings
Sleeve and rolling element bearing combination
Static screw mounted into a structure with a rotating nut
It is recommended that only axial force vectors are transmitted directly into the axis of the ball screw to obtain optimal and, in some instances, functional performance & longevity. All of our bearing mounts are furnished sealed and greased from the factory.
Custom Bearing Supports
Rockford Ball Screw works closely with our customers to design, engineer, and manufacture custom bearing supports for unique applications. Custom bearing support examples:
Tapered roller bearing
Thrust bearing arrangements
Spherical roller bearings
Multiple angular contact bearing stacks
Contact Rockford Ball screw to request a thorough review of your application