DewTran-HB
Featured Product from Roscid Technologies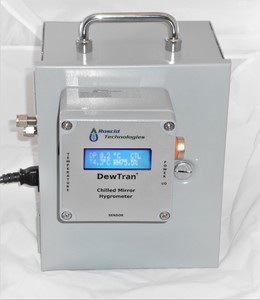 The DewTran®-HB has a built in automatic reference cycle (ARC) method that balances the optical signal for temperature change and mirror contaminants.
The unit includes a heated stainless-steel sintered filter and is rated to filter particles down to 7 microns. The filter element is easy to remove and clean.
The temperature inside the sensor housing is controlled via the RS232 communications.
Calibration/Digital Interface
NIST Traceable Calibration.
RS232-bi directional.
IThe DewTran-HB is typically used as a reference standard for dew point over the measurement range. It is very responsive and repeatable to +/-0.05?C and easy to maintain.