RCP Measurement & Control Housings
Product Announcement from Phoenix Mecano Inc.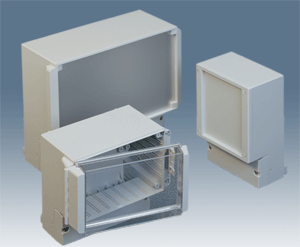 RCP Control Housings are ideal for instrumentation and measurement/control applications. These stylish wall-mount enclosures are available in 8 basic sizes, each with three different designs. To permit the insertion of mounting plates and PC boards, all designs have both vertical and horizontal grooves to ensure optimal versatility of the unit.
The terminal compartment can be separated from the actual electronics area, offering quick access to cable connections, by means of integrated grooves with separating plates. In addition, extra protection is possible by using lead seals in the standard through-holes. These enclosures can be mounted on the wall using the integrated three-point wall fitting, with the terminal compartment up or down.
RCP Control Housings from BOPLA are injection molded in ABS plastic. Standard clear lids are made of polycarbonate. Flame retardant VO models are available, molded in Lexan. Accessories include: aluminum front panels, mounting plates, sheet metal hood for control panel mounting, wall brackets, cylinder catches, and hand knobs.
TECHNICAL DATA:
Color: Light gray, similar to RAL 7035
Material: ABS housing, crystal clear polycarbonate lid.
VO version: Lexan 500 R housing, Lexan 940 A lid. Special materials and colors can be supplied on request for quantities of 500+.
Ingress Protection: Up to IP 65. NEMA 12.
Surface Resistance: ABS, >1014 Ohm to DIN 53482 Polycarbonate, >1015 Ohm to DIN 53482.
Disruptive Strength: ABS, 17KV/mm to DIN 53481 Polycarbonate 28KV/mm to DIN 53481.
Flammability: UL 94 HB/1.6 ABS enclosure material, UL 94 V2/1/14 clear polycarbonate lid. UL 94 VO–Lexan 500 R enclosure material, Lexan 940 A lid
Approvals: All enclosures are listed in 2 combustibility classes for use in USA & Canada under CSA Nr. LR 102362-2.
More ROSE and BOPLA Instrumentation Enclosures
For Product Support or To Order, Call 1-301-696-9800 or email us at RBinfo@pm-usa.com The All-Around Solution
---