Brochure - 700XA Gas Chromatograph
Product Announcement from Emerson/Rosemount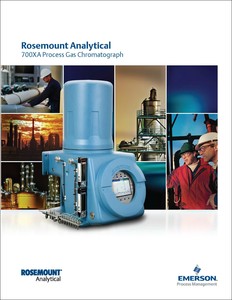 Rosemount's 700XA Process Gas Chromatographs provide extended analysis for extreme conditions. The 700XA offers increased analytical capability, reliability, and maintainability, combined with a wide range of analysis options in a field-mounted gas chromatograph (GC).
With a redesigned, single-cast enclosure, the 700XA offers an efficient use of oven space to accommodate both micropacked and capillary columns, as many as four 6-port or 10-port valves, a rotary valve for liquid injections, up to two thermal conductivity detectors, and an optional micro flame ionization detector (μFID). With a significant reduction in internal cabling, the 700XA allows maximum access to valves and internal components, making maintenance quick and easy.
Our proven, high-quality, heavy-duty design is built to last and perform with minimal adjustment and maintenance.
Flexible, field-mountable installation - Rosemount Analytical's ultra-rugged 700XA Process Gas Chromatographs can be installed without a shelter, which translates into significant savings for our customers.
Proximity to the sample tap means fast analysis without long, costly sample lines. Whether your extraction point is 150 feet up on a distillation column or in the middle of a tank farm, our chromatographs go wherever you need them.
Simplified connectivity and communications let you network your gas chromatographs with simple Ethernet connections and access your data either locally or remotely — while reducing technician time and training.
---