500 Natural Gas Chromatograph
Product Announcement from Emerson/Rosemount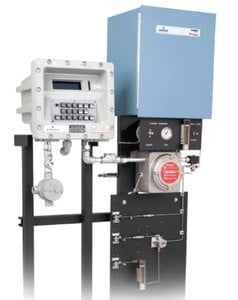 500 Natural Gas Chromatographs from Emerson Automation Solutions offer the broadest range of analysis options available today in a field-mounted gas chromatograph. Whether it is heating value measurement, trace contaminant monitoring, pipeline integrity, or product quality/process control, the 500 is flexible enough to meet your analysis needs. The proven technology and software of the 500 series offers superior reliability and precision, lower installation and operating costs, greater application flexibility, and unmatched measurement performance.
Emerson's Natural Gas Chromatographs can be configured in a number of networking and data communication schemes to meet process communication requirements. Options include Ethernet networks as well as multi-drop RS-485 networks. It is even possible to set up automatic polling for data collection over phone lines if desired. Data communication options to the plant control system include simple analog and discrete signals as well as Modbus serial links. To preserve the integrity of the analysis data, all 500 GCs are capable of storing up to 35 days of analysis or calibration data in the event of loss of communication to the plant control system.
All Emerson Natural Gas Chromatographs are designed to operate unattended. Occasionally, adjustments to the analyzers' analytical method or a review of alarms may be needed. Using our exclusive MON2000 software loaded on either a PC or laptop running Windows®, you'll have complete control of your natural gas chromatographs - either locally or remotely.
---