EC Fans With Modbus Controls Cut HVAC Energy Use
Featured Product from Rosenberg USA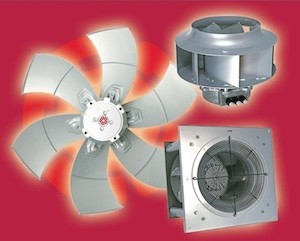 Rosenberg electronically commutated (EC) fans with built-in Modbus controls increase fan efficiency and significantly reduce power consumption. They are available in axial and backward-curved radial configurations for forced air heaters, heat pumps, condensers, cooling units, evaporators, chillers, electronics cooling, air handling and other applications.
Rosenberg's simple Modbus interface allows multiple networked fans to operate separately and at variable speeds to better balance electrical usage and air movement requirements. No special tools or connectors are needed.
READ WHITEPAPER - Using Modbus Controls For EC Fans to Reduce HVAC Energy Consumption

EC fans by Rosenberg are driven by DC motors. Controlled by maintenance-free electronic circuitry, they run cooler and quieter with longer service life.

Rosenberg backward curved EC fans are available in 10 sizes from 250 mm to 710 mm (approximately 10 to 28 inches) produce airflow up to 9,300 CFM or static pressure up to 6.75 inches. They can be specified as either motorized impellers or as fan modules.

Rosenberg's EC axial fans come in seven sizes from 500 up to 1000 mm (20 to 40 inches) with top airflow of up to 20,000 CFM. They can be installed in any position. Speed is 100% infinitely variable. They feature finned blades that reduce noise and increase efficiency.

The company also offers customized products made specifically to meet customers' unique needs such as special finishes, voltages, or frequencies.
About Rosenberg
The Rosenberg family of companies is headquartered in Künzelsau, Germany and employs more than 1,400 individuals worldwide. Rosenberg fans and blowers can be found in HVAC systems, as well as industrial and portable air conditioning; in air cooling for variable frequency drives (VFD), wind power generators and power converters, solar inverters, uninterruptable power supplies (UPS), transformers, heat sinks, fan coils, telecom racks and other industrial equipment; in air handling units and fan filter units (FFU); and in railway, marine, military and avionics equipment.
Rosenberg USA is located just outside Charlotte in Indian Trail, N.C. For more information, or to place an order, contact Rosenberg USA by phone at (704) 893-0883; fax (704) 882-0755 or e-mail sales@rosenbergusa.com.