Rotatruck Rota-dollie
Product Announcement from Rotacaster Pty Ltd.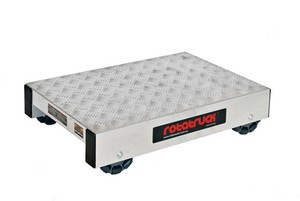 Rotacaster dollies give you better tracking, rotational and multi-directional control
Less effort to move & no need to balance heavy loads
Increased load stability & precision positioning
Unrivalled multi-directional movement & rotation
Excellent tracking & directional control
Light weight, durable & fully corrosion resistant
Optional handles
Rota-dollies are the easier, quicker solution to moving heavy, awkward loads.
Heavy loads become easier to transport, more stable, simpler to manoeuvre in restricted spaces and require greatly reduced pushing and twisting force to be exerted by the user.
Ideal for use in a vast array of environments from food service areas, freezers or cool rooms to offices, retail and medical as well as warehouses and construction sites, Rotacaster Dollies and multi-wheel platform carts reduced the risk of strain injuries and increase productivity potential.
---