Sophisticated Servo Control at Competitive Cost
Product Announcement from Rotalink Limited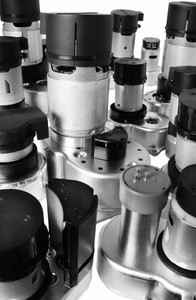 Rotalink removes the entry barrier to motion control systems. Its cost effective range of brushed and brushless motors fitted to planetary, spur or hybrid gear heads with absolute or incremental encoders controlled by Red Drive as a fully integrated pcb or chip option enables OEMs to create mechatronic positioning systems up to 10 Nm with significantly improved time to market.
A new and unique approach to motion control
You will find here a new and unique approach to motion control. The design philosophy has been to innovate, keeping a keen eye upon the application of well understood technology. The resulting product is user friendly and lowers the cost barrier making serious motion management systems available to all.


At the centre of our range is the basic brushed or brushless dc motor. Selected for its performance and usually interfaced with an appropriate gearbox. Add an incremental encoder, sandwiched between motor and gearbox, or an absolute encoder mounted on the back of the gearbox and all of the hardware necessary for a servo is in place.


Red Drive brushed or brushless controller using feedback through the encoder can be used to maximize the full capability of the motor. The flow chart protocol will allow you to deliver the sequence of events demanded by your design. Change during the development process is simple and when the design is in place you can use the chip on your own board.
---