Rotary Unions for Wind Turbine Pitch Control
Product Announcement from Rotary Systems, Inc.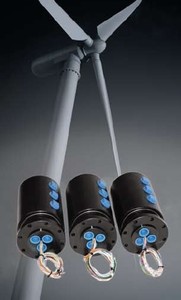 Providing rotary union and slip ring solutions for the renewable energy sector.
3 Passage Union for Blade Pitch Control
· Integrated Slip Ring for Power and Sensor Signal Transmission
· Pressure Rated to 7500 psi
· Environmental Bearing Protection
Two Passage Union for Solar Thermal Collector
· For use with Heat Transfer Fluid
· 1" Connections
· Bore thru for Rotary Encoder
· Environmental Bearing Protection
Two Passage Union for Methane Bio Gas Production
· All Steel Construction
· 150# Weld Neck Flange Mount
· Integrated Ball Bearings
· Hardened and Ground Shaft
· O-Ring Seals for Slow Rotation
Other Sustainable Energy Applications for Rotary Unions
· Fuel Cell Research
· Bio Fuel R&D and Production
· Offshore Wind
· Battery Research
If you have a specific renewable energy application, contact Rotary Systems at 800.959.0146 or email info@rotarysystems.com.
About Rotary Systems:
Rotary Systems is recognized for our innovative design and manufacturing capabilities in rotary unions and electrical slip rings. From our skilled engineers to our state-of-the-art facility to our incredible depth of knowledge, you can trust Rotary Systems to always deliver rotating unions and slip ring solutions designed and built to the highest standards possible. To learn more how engineers around the world, in limitless industries, including Automation, Defense, Offshore, Semi-Conductor, Energy, and Food and Beverage processing have counted on our engineering expertise to turn their visions into reality, please contact an applications engineer at info@rotarysystems.com or call 800.959.0146.
---