Slewing Bearings for Cranes and Construction
Product Announcement from Rotek, Inc.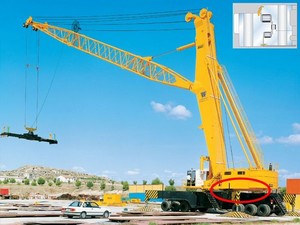 Rotek Series 10,000 slewing bearings are built with three independent rows of rollers. Since all loads are transmitted directly to raceway surfaces, which are perpendicular to the load direction, the capacity of each rolling element and each raceway surface is utilized in the most efficient manner.

The three-row roller slewing bearing offers more capacity per unit size than any other Rotek slewing bearing design and is inherently the stiffest style of construction. Frictional torque is lower than other styles under most load conditions.
Gearing options include internally geared, externally geared or gearless. Raceway diameters on standard models are from 12" to 180" with special orders up to 14 meters. Thrust from 100,000 to 17,300,000 pounds; Moment from 20,000 to 63,000,000 foot-pounds; Radial from 10,000 to 5,000,000 pounds. Special models can be ordered directly through Rotek.
Rotek slewing bearings are manufactured in the U.S.A.
Rotek Incorporated
1400 South Chillicothe Rd
Aurora, OH 44202
330-562-4000
---