Re-route pellets or granules
Featured Product from Rotolok Valves, Inc.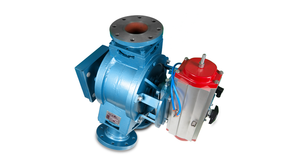 Plug Diverter
Used to re-route pellets or granules from one discharge point to another, the plug diverter is suitable for abrasive or high pressure applications, where leakage or cross contamination cannot be tolerated. The Plug diverter is available in sizes ranging from 3" up to 10".
The valve consists of a rugged cast body which houses a cast plug between a pair of end covers. The material handled passes from one line through a tunnel within the plug to either of the two outlet lines. The material stream is diverted to the selected outlet by rotating the plug through 150°. Rotation is alternatively clockwise and counter-clockwise and is achieved by means of a double acting torque actuator.
To prevent cross contamination of product air to the chamber or dormant leg, sealing is achieved by means of a PTFE spring loaded gland arrangement accessible adjustable and replaceable externally.
The plug and body are precision machined using the latest CNC technology to ensure reliability and sealing efficiency. The valve has no dead-leg, smooth internals ensure no lodgement points, minimising turbulence and therefore ensuring line efficiency is kept to a maximum.
Pipe connections can be supplied as either plain pipe ends or flanged as required.
Power & Energy
Rotolok has been supplying the power and energy industry for many years and has developed a range of products and valve options to cope with the nature of the products handled. We have large, heavy duty valves and rotors as well as hygienic rotary valves to handle any product or capacity required.
Our products can be customised or bespoke designed to meet your business needs – including Rotary Airlocks, Offset Rotary Airlocks, Blo-thru Rotary Airlocks, Pneumatic Conveying Diverters, Butterfly Dampers plus many more.
Typical products handled include:
Calcium Chloride
Charcoal
Coal (Pulverized)
Coal Dust
Dolomite
FGD Solids
Fly Ash
Hexamine
Lignite Coal
Potassium Nitrate
Quicklime (Calcium Oxide)
Uranium
Wood Chips
Products with applications in the power and energy industry:
Rotolok
Manufacturers of Rotary Valves and Other Materials Handling Equipment Rotolok can be your source of the complete range of handling equipment for processing all manner of powder and granules. If we cannot supply to your requirements directly then there is a very good chance another one of our
Group Companies can.