Rotolok industrial range of slide valves
Featured Product from Rotolok Valves, Inc.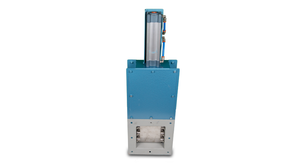 Fabricated Slide Gate
Although Rotolok manufactures a stock range of round and square outlet valves 6 1/2", 8 1/2", 10 1/2", 12 1/2", 14 1/2", and 16 1/2", mainly to match Screw Conveyor outlets, a full range of standard and heavy duty valves are made in versions: manual, rack and pinion, single and double pneumatic and motorised in sizes up to 5ft. 11" x 4ft. 7".
The Rotolok industrial range of slide valves are simple, but robustly designed to handle powders, pellets and granules over a wide field of applications. They may be operated manually, or by pneumatic means or electric motors, and offer reliable, continuous service with the minimum of attention and maintenance.
The standard range covers most needs, but the basic designs are capable of fabrication to any specified sizes and construction.
Power & Energy
Rotolok has been supplying the power and energy industry for many years and has developed a range of products and valve options to cope with the nature of the products handled. We have large, heavy duty valves and rotors as well as hygienic rotary valves to handle any product or capacity required.
Our products can be customised or bespoke designed to meet your business needs – including Rotary Airlocks, Offset Rotary Airlocks, Blo-thru Rotary Airlocks, Pneumatic Conveying Diverters, Butterfly Dampers plus many more.
Typical products handled include:
Calcium Chloride
Charcoal
Coal (Pulverized)
Coal Dust
Dolomite
FGD Solids
Fly Ash
Hexamine
Lignite Coal
Potassium Nitrate
Quicklime (Calcium Oxide)
Uranium
Wood Chips
Products with applications in the power and energy industry:
Rotolok
Manufacturers of Rotary Valves and Other Materials Handling Equipment Rotolok can be your source of the complete range of handling equipment for processing all manner of powder and granules. If we cannot supply to your requirements directly then there is a very good chance another one of our
Group Companies can.