Simple and Reliable Feed Control Valves for Solids
Featured Product from Rotolok Valves, Inc.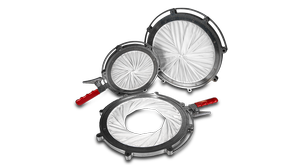 The Rotoflex lends itself particularly on filling applications. The sleeve is fixed with clamping rings. It can also be used on in-line systems but care must be taken to ensure mating gasket or flange does not interfere with rotating clamping ring.
The Flexible sleeve valve has proved itself over a number of years as a simple, reliable isolation or variable feed control valve on applications in the powder or air handling industries - its simplicity being its major advantage.
The basic construction is a rubber sleeve that, with each end being held firmly to a circular shape on rotation through 180°, will completely seal against the very finest of powders and limited air pressure.
Partial rotation leads to partial opening and a multitude of different types of sleeve can be accommodated, the better type of sleeves are food quality nylon, impregnated cloth and wear resistant natural rubber. These types of sleeves are weighty, give the valve good full opening properties and are dust tight.