Weigh Valves
Featured Product from Rotolok Valves, Inc.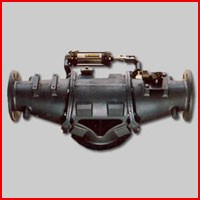 The weigh valve is a natural development from the Rotolok series of pneumatic Conveying Diverter Valves. It is primarily used in small bulk handling systems whereby a product is pneumatically conveyed to a hopper or bulk bin which is process weighed.
Initially the valve is positioned as per fig 1 showing the product being discharged into a bin whilst the air is exhausted. On the correct weight being achieved the valve changes position by means of the single cylinder to the position as per fig 2.