A752 Compact Rotary Actuator
Featured Product from Rotomation, Inc.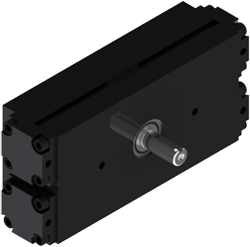 The A752 is designed to produce substantial amounts of torque in a small package. Its dual rack construction also eliminates gear lash at the ends of the stroke for precise positioning of parts. Its standard ball bearings, roller burnished cylinder bores and one-piece heat treated alloy steel pinion shaft contribute to its unparalleled resilience and long life. But if you need larger rotation angles and space isn't a limitation in your application, you may want to consider the A2 rotary actuator.
Features:
Compact construction, packed with torque
No backlash at end positions
Eight standard rotation angles or any special, up to 190 degrees
Ports size 10-32UNF or 1/8 NPT in your choice of locations
Optional magnetic switches for position sensing
Optional rotation adjusters, bumpers, and/or cushions
Documentation: