Actuators, Patented Designs, Unmatched Performance
Featured Product from Rotomation, Inc.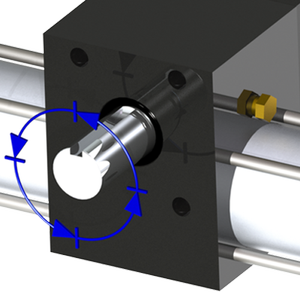 Rotomation manufactures high speed, heavy duty pneumatic actuators that produce several shaft motions. All products are extremely configurable, which separate us from our competitors and give users maximum flexibility in their design. Another unique advantage we have is our ability of supplying special actuators quickly and at a reasonable price.
Unique Products
Like all of our competitors, we have a basic line of bidirectional actuators that rotate between two positions. Like some of our competitors, we also carry a line of multi-position actuators that rotate between three, four, or five positions in any sequence and a line of multi-motion actuators that combine linear stroke with rotary motion, independently-controlled but all in one actuator. But here are a few aspects that set us apart from our competitors.
We offer a line of unidirectional actuators that rotate in increments and prevent backward rotation. These actuators are divided in two main families, stepping and indexing.