Compact, Rugged 3-Position Actuator
Featured Product from Rotomation, Inc.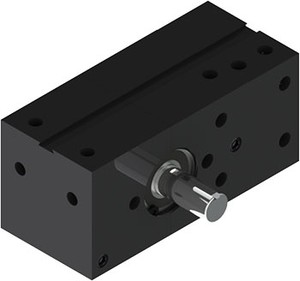 The A032 three-position actuator from Rotomation has an auxiliary body that houses two pistons with limit rods that provide a positive stop at the actuator's middle position with near-zero lash. Depending on the combination of pressurized and exhausted ports, the actuator can reach any of its 3 positions from any other position in any desired sequence. Like its two-position counterpart, the A032, it fits in the palm of your hand. For higher torque and larger rotation angles, consider our A12 3-position actuator.
Features Include:
Three independently-controlled positions
Compact, rugged, flexible design
Zero backlash at end positions
Your choice of 3/8", 1/4", or 8mm diameter shaft
Optional magnetic sensors for position feedback
Optional rotation adjusters and/or bumpers for end positions
Fully customizable (e.g., a

thru-shaft air feed

)