Four & Five Position Actuators from Rotomation
Featured Product from Rotomation, Inc.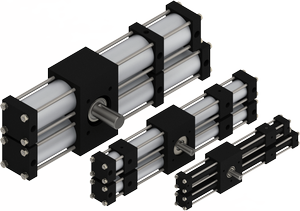 With internal stops and one or two sets of auxiliary cylinders used for the two or three intermediate positions, respectively, our four and five-position actuators are built to resemble their two-position counterparts, except for the external auxiliary cylinders that add to the overall length of the unit. Available in all our main actuator sizes, with the same lead time our regular rotary actuators, these actuators offer extreme configurability and reliable, repeatable positioning at a cost much lower than a servo motor system but their positions are not programmable. Like our three-position actuators, the output torque on these units is that of a single rack unit but they can rotate to any of its 4 or 5 positions in any sequence from any existing position by simply activating the proper directional control valve configuration.
Since 1967, Rotomation has maintained its service and product reputation in the manufacture of practical, durable, rotary actuators that produce a variety of shaft motions. They provide direct process actuation for reliable, high speed operation. All units are assembled to order; about 40% of them are specials. Product development and improvement are never-ending and our service includes telephone support, distributor availability and repair in our own shop to insure like-new operation. Your production is optimized and protected.
DEDICATED TO QUALITY: Material and parts surveillance, 100% product test.
INDUSTRY FIT: More shaft motion capabilities than any competitor.
AVAILABLE: Phone technical support, overnight unit or part shipment.
STABLE: Continued product improvement, replacements interchangeable.
ADAPTABLE: About 40% of product is special.
RELIABLE: Realistic delivery scheduling with direct access to schedule planner.
LONG TERM SERVICE: Record file on every unit, parts documentation, in-house repair services.
AGILE: OEM specials on short development/production schedules.
WIRED: Product and tool design, order processing and billing—all in computer system.
EQUIPPED: High precision machines, skilled machinist/programmers, instrumented test.
LOYAL: Many distributors and customers with us 28 years