Indexing Actuators for Conveyors, Packaging & More
Featured Product from Rotomation, Inc.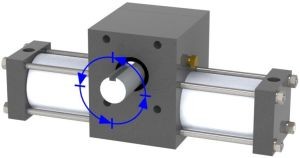 The Rotomation Indexing Actuator is a unique pneumatic device that reliably provides shaft rotation in precise steps in one direction without cumulative error. It shares a number of components with a normal rack and pinion rotary actuator.
APPLICATIONS:
Indexing conveyors

Walking beam
Packaging (i.e. carton up-ender)
Index tables
Star wheels
KEY FEATURES:
Totally unique
Low cost
Simple replacement for servos
Fast cycling with a 4-way valve
Index steps from 12 to 360 deg.
OPTIONS:
Cushions and flow controls
Bumpers available for reset side
Magnetic sensors
Washdown protection
High cycle life construction