Multi-Position Rotary Actuators
Featured Product from Rotomation, Inc.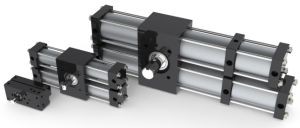 A multi-position rotary actuator can be commanded to any of its positions using standard directional control valves. Precision manufacture and assembly ensure near-zero lash at each position.
Heavy duty construction including heat treated alloy steel pinion shafts, floating pistons and racks, large ball bearings, and hard anodized aluminum cylinders make these tough, long lasting workhorses.
Rotomation multi-position actuators may be specified in nearly any combination of angles and keyway orientation desired. In addition, a wide variety of optional features mean that you can specify the actuator precisely to suit your application rather than adapting to a "one-size-fits-all" solution.
Choose from a wide range of sizes:
Torque from 9 to 275 inch pounds at 80 PSI
Shafts from 1/4" to 1 1/8" diameter
Bearing ratings from 300 to 2000 lb
Please visit our web site at www.rotomation.com for more information. CAD files are available on request.