Pneumatic Drive for Indexing Conveyor
Featured Product from Rotomation, Inc.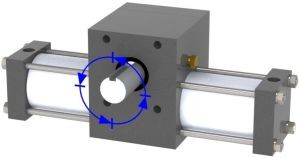 The Rotomation indexer is a low cost, simple solution for driving indexing conveyors for use in food, packaging, assembly, and other applications. Rugged and precise, with no accumulating error, the indexer can be used in harsh or explosive environments. Steps from 12 to 360 degrees are available. Torque on shop air ranges from 12 in lb to 410 in lb, with shaft sizes from 3/8 in to 1 in diameter.