CMA Compact Modulating Control Valve Actuators
Featured Product from Rotork plc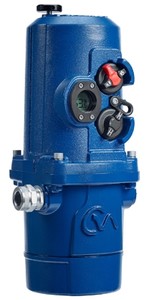 CMA series modulating actuators deliver a series of sizes suitable for linear, quarter-turn and rotary control valve and pump applications requiring precise position control and continuous modulation.
The Rotork CMA Range provides for simple, safe and easy set-up via an internal electronic 6-segment LCD display and push button configuration.
Can be powered by single-phase or direct current supplies
Linear, quarter-turn and rotary drive action
Permanently lubricated and maintenance free drive train
Capable of being mounted in any orientation
Accurate and repeatable position control
4 to 20 mA loop powered, feedback signal
Digital communication options including HART®, Foundation FieldbusTM, Profibus®, Pakscan, RIRO and Modbus® available
Field selectable adjustments for:

Deadband
Zero and span
Command signal type
Standard or reverse acting
Manual-auto operation
Output shaft position on loss of signal

All CMA units have the ability to adjust their speed 50-100% of operation
Shut off torque/thrust capability (60 -150% of rated) for required tight shut off at the valve in the CLOSE position
Wide standard ambient temperature range:
EP Product: -4 to +149 °F (-20 to 65 °C)
WT Product: -22 to +158 °F (-30 to 70 °C)
Optional high or low temperature trim
Manual override standard
Electronic thrust/torque limiting
Two standard adjustable position switches
24 VDC option
Pakscan, HART®, Profibus®, Modbus and Foundation Fieldbus® available
Optional hard wired RIRO (Remote In Remote Out)
Rotork is independent of valve manufacturers allowing us to work with a wide variety of valve makers and manufacturers worldwide.
CMA Range Benefits
Available in linear, quarter-turn and multi-turn versions and a range of five compact sizes
Economical operation of numerous types of control valve, damper and pump stroke adjuster applications
Maintenance-free drive train
Accurate and repeatable positional control
Resolution is 0.20% on linear and quarter-turn applications and 2 degrees on the multi-turn configuration
Continuous and unrestricted modulating performance