Equipment specifically tailored for the Military
Product Announcement from RUD Chain, Inc.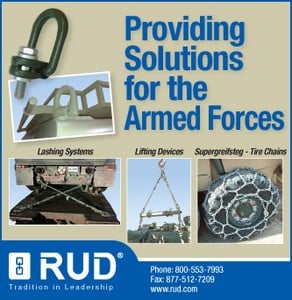 Equipment specifically tailored to individual application and approved military standards. Develop and designs lifting and lashing systems for special application
Lifting Devices or Lifting Systems: • Round steel-link chain in special quality, CrNiMo steel specially tempered for High-Toughness • Master links with 1, 2, 3, or 4 legs. With Working Load Limit (WLL) of 1.5t - 20t. • Cobra Hoods with safety latch, WLL of 1.5t.-20t • Multi-shortening claw, WWL of 1.5t- 22t • Fool-proof shackles • Special Connectors 1.5t-20t • Over-load indicator complete, includes: connectors, overload control link, and 3 links of chain • Spreader Bars - adjustable
Lashing Systems or Components: • Bolted load rings that swivel 360 degrees and pivot 180 degrees with/without ball-bearing, WWL of 0.3t - 40t • Starpoint Eye Bolts. Hand tightens and swivels 360 degrees can be used multiple times, WWL of 0.4t - 12t. • Welded Lifting or Lashing Points - with/without spring or locking devices, WWL of 1t - 50t All mounting bases, together with associated hook and ring combinations, have Working Load Limit (WLL) ratings equivalent to the market leading RUD VIP sling chain system - therefore offering a 25% increase in the load ratings applicable to equivalently sized Grade 80 chain and components.
Non-Skid and Tire Protection Chains • The rugged alloy steel designs of RUD Tire Protection Chains provide the extra traction and wear that tough off-road conditions demand. • Extends the life span of the tire, protecting sidewalls against cuts and punctures • Minimize down time • Greater mobility • Improves traction - less spin
Contact us at sales@rudchain.com
---